Day 2 :
Keynote Forum
Bazarganan Hospital, IRAN

Biography:
Dr. Reza Nejat is a board certified Anesthesiologist, FCCM and ECFMG certified. He was graduated from Tehran University of Medical Sciences (TUMS) as a GP and achieved his expertise in Anesthesiology from Iran University of Medical Sciences. Fellowship in Critical Care Medicine at Sina Hospital, TUMS, made him fascinated to molecular medicine with inclination to sepsis and acute heart failure. IVIg has been one of his field of interests and experience for the past 4 years.
In addition to his positions as the chief of few hospitals and as an associate professor in Shahid Beheshti University of Medical Sciences for 8 years, he has 4 published books in the fields of cardiology, nephrology, fluid and electrolyte, nutrition, metabolism and endocrinology. He has established his website on which he publishes his articles. Dr. Nejat has presented a few articles in different conferences.
Abstract:
Statement of the problem: Intravenous immunoglobulins (IVIG) contains immunoglobulins pooled from the plasma of 3000 to 10000 individual blood-donors. This preparation was developed originally in 1952 as a therapeutic milestone in primary hypo-gamma-globulinemia. IVIG has subsequently been proved to have therapeutic efficacy for an ever-growing number of conditions in diverse fields of medicine. Presuming the protective characteristic of its pluripotent antibody content, IVIg is expected to have explicit impact in sepsis, yet FDA has not approved and Surviving Sepsis Campaign Guidelines (SSCG) 2012 discouraged its administration in adult sepsis.
Methodology: By reviewing of relevant articles searched through internet from 1990 to 2016, the efficacy of IVIg as an adjuvant treatment in improving the outcome in systemic inflammatory response syndrome (SIRS) and sepsis was surveyed. Based on the literature it is discernible that SIRS and sepsis with high rate of mortality in ICUs are actually detrimental much more owing to dysregulated immune system responses overwhelmed by disarray of cytokines and chemokines, declining of endogenous immunoglobulins and even deranged activation or suppression of relevant gene domains. According to the latest definition of sepsis in 2016, this dysregulated host response to infection renders the scene toward organ dysfunction.
IVIg was given to three highly critically ill patients of 95, 37 and 11 years of age, with severe sepsis due to iatrogenic sigmoid perforation, post-ERCP necrotizing pancreatitis and severe multiple trauma following collision with a truck, respectively. Before administration of IVIg the patients was given intensive care with administration of appropriate antibiotics and keeping the energy, fluid and electrolytes in a balance mode. They all recovered from sepsis and were discharged in good health.
Conclusion: Based on this review article and case report, immune-modulatory characteristic of IVIG may restore the pathobiological host responses to normal and improve the outcome in sepsis.
Keynote Forum
Baqiyatallah University of Medical Sciences,Iran

Biography:
Ali Karami is Molecular biologist, Medical Biotechnologist and expert in Genetic Engineering working on Molecular detection of infectious diseases, cloning, expression and purification and characterization of recombinant proteins for medical applications. I also have been working for long time on Recombinant vaccines, DNA vaccines, Bioinformatics, microarray and other eras of molecular Biotechnology.
Abstract:
Background and Objective: Biological weapons like other weapons of mass destruction, including nuclear and radiological weapons are very dangerous in recent years due to characteristics such as the ability to create extensive injury , having incubation period , creating long illness , the ability to spread and epidemic and most importantly non-specific symptoms and difficulty in detection of bioterrorism attacks are increasingly used by some countries . One of the most important steps to deal with the Bioterrorism threat is microbiological detection of biological agents that can be done in the Microbiology laboratory.
Methods: This study aimed to review the role and actions of microbiology laboratories and specialists needed in passive defense against biological threats. In this study databases like CDC, Medline, Google scholar, PubMed and the World Health Organization (WHO) and other national and international sources have been used.
Results: The basic principle of control bioterrorism attacks is based on the ability to rapidly deliver health services . Microbiology laboratories play a critical role in the rapid and accurate detection of biological agents due to the lack of features such as odor, color and other physical characteristics, diagnosis is difficult and sometimes impossible.Therefore Microbiology Laboratories should be equipped with advanced detection and diagnosis methods along with rapid development of Novel biological Agents and Personnel should be trained with current detection methods and protocols and further with biosafety and biosecurity guidelines for working with bio agents.
Conclusion: With rapid Development in detection systems and methods specially molecular detection protocols and instruments for Biological Agents it will be nesecary for nationas Microbilogy laboratoryies and personel to be trained and equiped and redy for detection of any possible biological incidents.
Track 1:Ebola Outbreak and Approaches for Prevention
Track 2:Fungal Infectious Diseases
Track 3:Parasitic Diseases
Track 4:Public health practice
Track 5:Infectious Agents and the Human Immune Response
Track 6:Laboratory Diagnosis of Infectious Diseases
Track 7:Molecular Diagnostics of Infectious Diseases
Track 8:Infectious Diseases in Critical Care Medicine
Location: Paris, France
Session Introduction
University of Montpellier, France

Biography:
Jamal Tazi is professor of functional genomics at the University of Montpellier and deputy director of the health center biology " Rabelais" responsible for education and training. For 20 years , he led the team " messenger RNA metabolism in metazoans " within the Institute for Molecular Genetics in Montpellier ( IGMM ) where he made important contributions to understand the fundamental mechanisms of the expression of our genes and editing of their products.These discoveries are used today in the medical field through the development of a new therapy based on the use of small molecules to fight against viral infections.To ensure the transition between basic and applied research, and also to support these innovative projects to clinical stage , Jamal founded in 2008 the company Splicos and established its partnership with public institutions as a cooperative laboratory where, he became the scientific Director
Abstract:
The progression of human immunodeficiency virus (HIV) is associated with mucosal damage in the gastrointestinal (GI) tract. This damage enables bacterial translocation from the gut and leads to subsequent inflammation. Dextran sulfate sodium (DSS-treatment) is an established animal model for experimental colitis that was recently shown to recapitulate the link between GI-tract damage and pathogenic features of SIV infection. The current study tested the protective properties of ABX464, a first-in-class anti-HIV drug candidate that has demonstrated anti-viral activity in HIV treatment of naïve patients. ABX464 also induced a long-lasting control of the viral load in HIV infected humanized mice after treatment arrest. ABX464 treatment strongly attenuated DSS-induced colitis in mice and produced a long-term protection against prolonged DSS-exposure after drug cessation. Consistently, ABX464 reduced the colonic production of the inflammatory cytokines IL-6 and TNF as well as that of the chemoattractant MCP-1. However, RNA profiling analysis revealed the capacity of ABX464 to induce the expression of IL-22, a cytokine involved in colitis tissue repair both in DSS-treated mice. A comprehensive analysis of the gene expression profiles by RNAseq demonstrated that the expression of IL22 was preferentially induced by ABX464 in mouse bone marrow derived macrophages only upon stimulation with LPS. Importantly, anti-IL22 antibodies abrogated the protective effect of ABX464 on colitis in DSS-treated mice.
Because reduced IL-22 production in the gut mucosa is an established factor of HIV and DSS-induced immunopathogenesis, our data suggest that the anti-inflammatory properties of ABX464 warrant exploration in both HIV and inflammatory ulcerative colitis (UC) disease.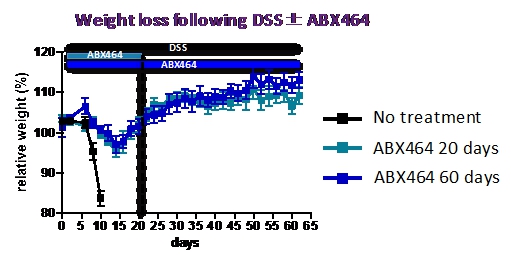 Flinders University, Australia

Biography:
Hailay Gesesew has his expertise in Epidemiology. His multi-method approach assessing in each cascades of HIV care continuum will establish a significant contribution for the AIDS Ending goal. He has been publishing a lot of peer reviewed articles on the area of HIV care in reputable journals. Hiis publications produced from his PhD will improve the HIV care in developing countries especially Ethiopia. Hailay has been serving as a clinician, academician and researcher.
Abstract:
Background: How Ethiopia's UNAIDS 90-90-90 targets is progressing was not assessed. We assessed HIV care continuum outcomes as surrogate markers for the 90-90-90 targets. Methodology: Data were collected from a 12 years retrospective cohort from anti-retroviral therapy (ART) clinic in Southwest Ethiopia. For measuring the UNAIDS diagnosis target, prevalence rate of delayed HIV diagnosis was considered as a surrogate marker. For the treatment target, number of people on ART, number of people who discontinued from ART or transferred out, and number of people who had fair or poor adherence were used as surrogate markers. For the viral suppression target, number of CD4 counts and/or WHO clinical stages were used to assess immunological, clinical and treatment successes and further show the viral suppression. Summary statistics, trends and estimated survival time were reported. Findings: 8172 patients were enrolled for HIV cares in 2003-2015. For the diagnosis target, 34.5% patients knew their status early (43%-children, 33%-adults). For the treatment target, 65% patients received ART, 1154 (21.9%) patients discontinued from ART, 1015 (19.3%) patients on ART transferred out to other sites, 916 (17%) of patients on ART had fair or good adherence. For the virological suppression target, 80.7, 80.3 and 65.8% of patients had immunological, clinical and treatment success displaying an estimated 66% of patients achieved the target. Conclusions: The finding reflects that an estimated 35% of patients knew their status timely, 65% of diagnosed patients received treatment and 66% of patients on ART achieved viral suppression. This is very far from the UNAIDS 90-90-90 targets underscoring the need for concreted efforts such as use of unmanned aerial systems (or drones) for transporting laboratory specimens, immediate or same day ART initiation, community distribution of ART, runaway packs during conflict, and use of GenXpert for HIV viral load testing would help to hit the target.
Ethiopian Public Health Institute, Ethiopia

Biography:
Abstract:
Background: Onchocerciasis is a neglected tropical parasitic disease (NTD) caused by a filarial nematode worm called onchocerca volvulus and transmitted by the bites of simulium flies. Since 2001, Ethiopia has been committed to implementation of the National Onchocerciasis Control Programme, which was revised during 2012 to undertake elimination through interruption of transmission until 2020. This strategy uses annual or semiannual community-based treatment using the drug Ivermectin.
Objective: This study was aimed at assessing whether the goal of focal transmission interruption attained or not in one of the areas receiving annual community based Ivermectin for more than a decade.
Methods: A community-based cross sectional study was conducted in selected communities of Metema focus during 2014 and 2015 in North Gondar, Ethiopia. High endemicity before intervention, proximity to the breeding sites and representativeness of the focus within 20-30 km distance between sites was used for selection. The study participants were community residents above the age of 5 years for skin microfilariae survey and children's born during the period of mass treatment with age below 10 years for Ov-16 IgG4 antibody exposure test. Skinsnip sample collected from left and right iliac crest of 2,986 individuals with sterilized biopsy punch and examined under a microscope after 24 hours' incubation. Whereas, finger prick samples collected from 3,136 children and dried blood spot (DBS) prepared for Ov-16 ELISA laboratory analysis.
Results: From microscopic examination, no skin snip found positive for microfilaria. ELISA showed 0.25% (8 of 3,136) antibody positive. But molecular assay of skin snip using PCR demonstrated no infective parasite for those 8 sero-reactive children.
Conclusion: The skin microfilarial survey results revealed absence of Onchocerca volvulus in the community and the serology results implied that children born during the period of the intervention are protected from acquiring infection. An entomological assessment appears important to confirm absence of infectious flies in the focus and interruption of focal transmission.

Biography:
Sumedha Sharma started her research career with her dissertation in the postgraduate degree where she worked on the effect of Ocimum gratissimum on the colon cancer. She qualified various national eligibility test (Indian Council of Medical Research & Council of Scientific & Industrial Research, India) to pursue her goal in research and academics. Her inclination towards research lead her to join the doctorate program where her research was focused on tuberculosis (TB). During her doctorate degree, she was selected as a training participant in AIDS and TB international training and research program (AITRP) sponsored by Fogarty International Centre, NIH, USA where she was trained on microarray technology. Her microarray work on sputum of PTB patients gave an insight to the mycobacterial genome specifically expressed in active TB patients, leading to identification of mycobacterial targets, which can be exploit as potential vaccine and diagnostic candidates.
Abstract:
Statement of the Problem: Tuberculosis (TB) diagnosis is a one of the major areas of interest to control the spread of TB disease in community. Therefore, there is a need to develop rapid and specific diagnostics easily usable at different health care levels. Our previous work on mycobacterial gene expression pattern in sputum from pulmonary tuberculosis patients lead to identification of newer targets, as potential biomarkers. In view of this, the current study was planned to evaluate the role of these candidate biomarkers in molecular and serodiagnostic tests. Methodology: Three of the genes, Rv0986 & Rv0971 along with one Region of Difference (RD) gene Rv3121, were evaluated for their diagnostic potential in RNA based real time (RT) polymerase chain reaction (PCR). Simultaneously, the peptides from proteins corresponding to these genes along with five other RD genes were evaluated for their serodiagnostic potential using a peptide based enzyme linked immunosorbent assay (ELISA) technique. Findings: The use of the target genes Rv0986, Rv0971 and Rv3121 in a molecular RNA based assay lead to the detection of smear positive patients with 100%, 87% and 94% sensitivity and of smear negative TB patients with 50%, 58% and 67% respectively. However, of all the peptides corresponding to different proteins which were tested in the serodiagnostic ELISA the maximum sensitivity that could be attained was 37% for smear positive PTB patients and 32% for smear negative PTB patients. Conclusion & Significance: A subset of the proteins encoded by the genes expressed by mycobacteria in the sputum have shown less sensitivity for the development of a serodiagnostic assay, but these genes have shown promising results for the development of a RNA based molecular assay that can be optimized further after evaluation in a larger cohort of patients.

Biography:
Abstract:
Antimicrobial resistance (AMR) is a growing public health concern worldwide and is one of the top health challenges facing humanity in the 21st century. AMR among enterobacteriaceae is rapidly increasing especially to third-generation cephalosporins and carbapenems. Further, strains carrying mobilized colistin resistance (mcr) genes 1 & 2 have been isolated from humans, food-producing animals, and environment. Uncontrolled use of antibiotics in animals in large scale could be one of the major contributing factors to generation and spread of antibiotic resistance. No studies have been done to evaluate antimicrobial resistance in animals in Qatar. This study aimed at establishing a primary baseline data for prevalence of antimicrobial resistance among food animals in Qatar. 172 fecal samples were obtained from two broiler farms andone live bird market in Qatar and 90 Escherichia coli (E. coli) bacteria were isolated and subjected to antimicrobial susceptibility testing using Etest method. 90% (81/90) of the isolates were resistant to at least one of the 16 tested antibiotics. 15.5% (14/90) of the isolates were colistin resistant, 2.2% (2/90) were extended spectrum β lactamase (ESBL) producers and similar percentage were multi-drug resistant (MDR) to four antibiotic classes. ESBL-producing E. coli and colistin resistant isolates were confirmed using double disc susceptibility testing and PCR, respectively. In Summary, Our results indicates high antimicrobial resistance in food producing animals in Qatar, including ESBL and colistin resistance. Such AMR bacteria could be easily transmitted to humans through consumption of undercooked food or noncompliance with hygiene practices, which mandates prompt development and implementation of stewardship program to control and monitor the use of antimicrobial agents in community and agriculture.