Day 2 :
Keynote Forum
University of California, San Francisco, USA

Biography:
Michael D Geschwind is a Professor of Neurology at the UCSF Memory and Aging Center who specializes in the assessment, treatment and management of rapidly progressive dementias, including prion diseases such as Jakob-Creutzfeldt disease (JCD) and autoimmune encephalopathies, and other cognitive/movement disorder syndromes. He helped to establish a program for the assessment of rapidly progressive dementias at UCSF Medical Center, the first of its kind in the country. He helped to run the first US treatment trial for sporadic disease, at UCSF. He has also helped to establish and co-direct a clinic for patients with autoimmune encephalopathy. He Co-directs the Huntington's Disease Society of America Center of Excellence (HDSA COE) and Ataxia Clinic at the UCSF Memory and Aging Center. His research interests include rapidly progressive dementias, cognitive dysfunction in movement disorders, such as Huntington's disease, spinocerebellar ataxia, corticobasal degeneration (CBD), progressive supranuclear palsy (PSP) and other Parkinsonian dementias.
Abstract:
Statement of the Problem: In my prior presentation I discussed the clinical spectrum of sporadic human prion disease, but these only account for 85% of human prion disease cases. About 15% of human prion diseases are genetic and about <1% are acquired. This talk will focus more on the genetic and acquired forms.
Methodology & Theoretical Orientation: Our center has evaluated more than 2500 cases of rapidly progressive dementia (RPD), including more than 600 cases of prion disease through our clinical research program. We have also been following about 100 families with genetic prion disease. Most patients undergo a comprehensive evaluation including clinical history, cognitive testing, CSF analysis, research brain MRI protocol and other testing. These data are analyzed to identify measures that might improve our understanding of these different forms of prion disease.
Findings: The clinical spectrum of acquired and genetic prion diseases is vast. For acquired prion disease, of most concern is the variant JCD from exposure to bovine spongiform encephalopathy and in the USA and some other countries there is concern than prion disease of deer, elk, and moose, chronic wasting disease, might spread to humans. These topics are discussed. For genetic prion disease, we have found the spectrum of presentation to be quite varied, from RPD to slowly progressive dementia and movement disorders over years to decades.
Conclusion & Significance: Acquired and genetic prion diseases have some overlap with, but also significant differences from, the more common sporadic disease. Improved understanding of the presentation of these disorders should allow earlier and more accurate diagnosis of these rare conditions.
Keynote Forum
National Taiwan University Science & Technology, Taiwan

Biography:
Chris Whiteley is an Emeritus Professor of Biochemistry at Rhodes University, Grahamstown, South Africa and distinguished Research Professor at National
Taiwan University Science & Technology, Visiting International Professor in Enzymology at School of Bioscience & BioEngineering of South China University
Technology, Guangzhou, PRC. He served as Visiting Research Scientist at the Department of Chemical Engineering, National Taiwan University, Taipei, Taiwan
in 2004 and as Visiting Professor of Biochemistry at Institute of Biomedical Technology, Veterans General Hospital, Yang Ming University, Taipei, Taiwan. He also
worked as Visiting Professor of Enzymology & Organic Synthesis at Oregon State University, Corvallis, Oregon, USA and Visiting Professor of Organic Synthesis
at University British Columbia, Vancouver, Canada. He is the Executive Member of Royal Chemical Society (London), MRSC (C. Chem), South African Chemical
Institute (SACI). He has published 6 chapters in books and has 110 peer-reviewed papers on Biomedical Enzymology and Nanomaterials.
Abstract:
Statement of the Problem: There is an increasing need for the development of new drug protocols against human immunedeficiency
virus (HIV) and HIV protease (HIVPR) is identified as a promising biomedical target in this regard.
Methodology: The interaction of gold nanoparticles (AuNP) with HIVPR is modelled using a molecular dynamics simulation
computer programme (Colores) from the Situs suite package.
Findings: The simulation of the 'docking', first as a rigid-body docked complex, and eventually through flexible-fit analysis,
creates 36 different complexes from four initial orientations of the nanoparticle strategically positioned around the surface of
the enzyme [Fig A]. The rigid-body docked complex is conformationally flexible to accommodate the AuNP that orientates
itself within the 'docking' site until a more stable structure is formed at convergence. Normalization of the data, for these
AuNP-HIVPR complexes, is obtained from changes to interactive binding energy profiles, RMSD, B-factors, dihedral angles
[phi, Δφ; psi, Δψ; chi, Δχ], size, volume occupied by Cα [ΔVcα], secondary structural elements (α-helix, β-strands, random
coil), number of contact residues, their hydrophobicities and surface electrostatic potentials.
Conclusion & Significance: From a molecular dynamic simulation perspective it is possible to provide insights into the 'best'
most probable AuNP-HIVPR complex formed no matter which biophysical technique is monitored.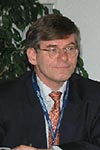 Biography:
Stef Stienstra works internationally for several medical and biotech companies as Scientific Advisory Board Member and is also an active Reserve-Officer of the
Royal Dutch Navy in his rank as Commander (OF4). For the Dutch Armed Forces, he is CBRNe Specialist with focus on (micro) biological and chemical threats
and Medical- And Environmental Functional Specialist within the 1st CMI (Civil Military Interaction) Battalion of the Dutch Armed Forces. For Expertise France, he
is now managing an EU CBRN CoE public health project in West Africa. In his civilian position, he is at this moment developing with MT-Derm in Berlin (Germany)
a novel interdermal vaccination technology as well as a new therapy for cutaneous leishmaniasis for which he has won a Canadian Grand Challenge grant. With
Hemanua in Dublin (Ireland), he has developed an innovative blood separation unit, which is also suitable to produce convalescent plasma for Ebola virus disease
therapy. He has finished both his studies in Medicine and in Biochemistry in the Netherlands with a Doctorate and has extensive practical experience in cell biology,
immuno-haematology, infectious diseases, biodefense and transfusion medicine.
Abstract:
Sharing security threat information is a challenge for governments and their agencies. Especially in biotechnology and microbiology the agencies do not know how to classify or to disclose collected information on potential bio-threats. There is vague border between man-made and natural biological threats. An example is the several month delay of the publication of research on the transmissibility of H5N1 avian influenza virus in the leading scientific journal Science by researchers of the Erasmus Medical Centre in Rotterdam, The Netherlands. The publication was delayed in 2012 by several months due to the fact that various organizations first wanted to investigate whether the details could be misused by malicious individuals. In the study the researchers show that only a small number of mutations were necessary to change the H5N1 virus so that it can spread through the respiratory system between mammals. This implies that the risk of a H5N1 pandemic cannot be ruled out. On the other hand, this information can be used to develop new therapies and/or vaccines for influenza. It gives also insight into the disease mechanism, which helps in the prevention. The same arguments are valid for therapeutic antibodies, like the antibodies, which are developed to treat anthrax. They have an extreme high affinity for the lethal factors of the bacterium and stop the disease, but the same antibodies could be misused to select the most pathogenic strains. Micro-organisms have from nature itself the capacity to reorganise and change their pathogenicity, which could lead to a pandemic spread of a disease. But if the disease is too infectious and too deadly, like some stains of Ebola Virus are, the lethality will be locally limited. But if the incubation time is longer in a certain strain of an Ebola virus, the risks on epidemics and even a pandemic is much higher. The knowledge of these natural mutation mechanisms could be misused to weaponize micro-organisms. It enables the engineering of the lethality like it is done with some anthrax strains. Are these laboratory techniques considered as public science or should it be classified? Academics want to publish and to share information for the progress of science and to find useful applications. The Rotterdam scientists were really annoyed when their research was blocked for publication and feared that other groups would be first in publishing a part of their obtained experimental results. Biosafety is already common practice in micro-biology, but biosecurity is often still questionable. A 'Code of Conduct', like the Dutch Academy of Science has developed, would help; especially for the so-called insider risk. Educational programs for the identification and assessment of risks and threats to security have to be developed to give scientists bio-threat awareness and for government officials to rationalize the real threat, without damaging the progress of science.
Infectious Diseases|Diagnosis of Infectious DiseasesAntimicrobial | Antibiotic | Antibacterial | ResistanceTuberculosis | Malaria
Location: Sanfrancisco
Chair
Stef Stienstra
Royal Dutch Navy, Netherlands

Co-Chair
Chris Whiteley
Rhodes University, South Africa
Session Introduction
Vaiomer, Labège, France
Time : 12:00-12:25

Biography:
Dr Lelouvier received his Ph.D in Cellular and Molecular Neurobiology from the University Pierre et Marie Curie, Paris VI, France, in 2007. After a postdoctoral fellowship at the National Institutes of Health (USA), he joined Vaiomer in 2012. As cellular and molecular biology group leader and head of biomarkers discovery, he developed with his group the molecular tools (16S qPCR and 16S metagenomics sequencing) to study specifically the blood and tissue microbiomes, before becoming Chief Scientific Officer of Vaiomer in 2016. The study of tissue and blood microbiota allows Vaiomer to link intestinal dysbiosis and tissular inflammation for the development of biomarkers and therapeutics in the fields of cardiometabolic diseases, neurodegenerative disorders and chronic infection
Abstract:
Diagnosis and treatment of bloodstream infection (BSI) will greatly benefit from sensitive and exhaustive molecular methods to detect bacterial DNA in blood, such as quantitative PCR (qPCR) and metagenomics sequencing. Such approaches are already studied with the aim of reducing the turnaround time and increasing the sensitivity of the microbiota detection in suspected BSI. However, this type of molecular diagnosis is greatly complicated by the presence of human DNA and PCR inhibitors in blood, as well as bacterial DNA contaminants present in the environment, reagents and consumables, which dramatically hamper the signal to noise ratio of qPCR and sequencing pipelines.
In the course of our investigations into the role of tissue microbiota in cardiometabolic diseases we developed specific optimized pipelines of qPCR and 16S targeted metagenomic sequencing to analyze blood bacterial DNA, despite the technical difficulties associated with this sample type. Using these molecular tools we have demonstrated the existence of a highly diversified blood microbiome in healthy human donors and shown the association between changes in the blood microbiome and liver fibrosis in obese patients. These assays were primarily designed to analyze bacterial DNA in blood and tissue of healthy donors and patients with no infectious disease, and therefore their signal to noise ratios are high and they are also capable of detecting BSI in patients with high sensitivity and at early stages of infection.

CIATEJ, Mexico.
Time : 12:25-12:50

Biography:
Dr. Ikuri Alvarez Maya,She is a Researcher at the Center for Research and Assistance in Technology and Design of the State of Jalisco. She holds a postdoctoral degree in Neurobiology Department, NRC. University of Alabama at Birmingham UAB. Alabama, USA. And in Department of Virology, Children's Hospital of Eastern Ontario CHEO, Ottawa, Canada. She has published in several indexed journals, more than 30 national and international congresses, and has contributed to the training of students in different levels of postgraduate. Her research interest is focused mainly in molecular diagnosis of infectious diseases.

Abstract:
Statement of the Problem. Tuberculosis is a bacterial disease caused by Mycobacterium tuberculosis. This bacterium is known for a high rate of drug resistance, then tuberculosis is considered a worldwide public disease with high health and economic impact. Statistics in Mexico show that the incidence increases 15% every year, being a major problem due to the persistence. We aim to sequence the complete genome of Mycobacterium tuberculosis and subsequently perform bioinformatics analysis to determine possible molecular changes. Methodology & Theoretical Orientation: The complete genome of a Laboratory Mycobacterium tuberculosis strain H37Rv was sequenced using Next-Generation Sequencing (NGS) on the Illumina MiSeq platform. Genome DNA (gDNA) library was constructed using Nextera XT (Illumina) protocol. DNA was fragmented, tagged and selected by size, then sequenced by Illumina MiSeq-NGS platform. For bioinformatics, all sequences with adaptor contamination, duplicate reads or unknown nucleotides were removed by Trimmomatic. Clean-filtered reads were mapped to the reference genome from GenBank (AL123456.3) by BWA software. Finally SAMTools software was used for SNP calling, since resistance anti-tuberculous drugs has been associated with SNPs in particular genes. Findings: Phred quality score in DNA sequencing was calculate (Q45) then this score was assigned to each nucleotide in the generated sequences. The P value was obtained (3.162e-005) and indicated that the genotype GC is very likely to be the true genotype in the sequenced sample. Preliminary results shown that there is a single nucleotide variant (SNV) from G to C at position 3982 in the strain of Mycobacterium tuberculosis. Conclusion & Significance: Mapping between Laboratory strain H37Rv and GeneBank H37Rv (ID 20829) shown at least one SNP in the position 3982. However, this results must to be confirmed using a higher Depth Reading and a further exhaustive analysis. This study was supported by CONACYT grant PDCPN_2014_247879, Scientific Development Projects to Attention National Problems.
Tata Memorial Hospital, Mumbai, India
Time : 12:50-13:15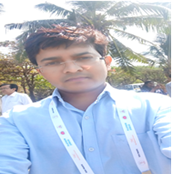 Biography:
Prashant Mule has completed his MD in Microbiology from the Department of Microbiology, Tata Memorial Hospital, Mumbai, India in 2016. Presently, he is working as a Senior Resident in the Department of Microbiology. His areas of interests are Mycology, Molecular Microbiology, Virology and prevention of health care associated infections. He has worked on the evaluation of in house real time PCR for the diagnosis and prognostication of invasive fungal infections in a tertiary care cancer institute in Mumbai.
Abstract:
Introduction: Invasive fungal infections (IFI) have emerged as an important cause of morbidity and mortality in cancer patients. Aggressive chemotherapeutic protocols for treatment resulting in prolonged and profound neutropenia, are the most important contributory factors. Patients with hematological malignancies and those undergoing bone marrow transplantation
are at high risk of invasive mycoses and an increase in morbidity and mortality. Blood culture lacks the sensitivity but with the availibility of molecular techniques, the diagnosis of systemic fungal infections has signifacantly improved. Objectives: To evaluate an in-house real-time PCR for the diagnosis of IFI. To correlate the results of PCR with the EORTC classification of invasive fungal infections (IFI). Methods: 3 ml of whole blood is collected from patients with suspected invasive fungal infections. Extraction is performed and DNA is detected using SYBR green PCR. The panfungal PCR using primers NL1 and 260R targeting a region of the ribosomal gene followed by species specific hybridization with probes for Candida species as well as Aspergillus species. Results: A total of 80 in patients were included in the study from August 2015 to December 2015 at Tata Memorial Hospital.52 patients had haematological malignancies and 28 patients belonged to the surgical disease management group (DMG). They were classified by the EORTC criteria as proven, possible and probable cases of IFI of the 80 patients, 49 were positive for yeast DNA and 3 were positive for Aspergillus DNA.Discussion: Fungal infections, in neutropenic patients with malignancies do not show characteristic signs and symptoms,making accurate diagnosis difficult. Early recognition is crucial, as the progression of invasive disease from detection to death is typically less than 14 days. Empirical treatment with antifungal agents is initiated in high-risk patients with suspected fungal infection. This is associated with high toxicity and high cost. Conclusions: The SYBR green real time PCR was useful and sensitive indicator for the detection of fungal DNA. The SYBR Green PCR is found to be a reproducile assay and it is validated for patients with Candidemia.
University of the Pacific, San Francis, USA
Time : 14:15-14:40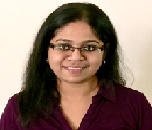 Biography:
Pavithra S is a Visiting Scholar in Genetics and Stem Cell Laboratory at University of Pacific, San Francisco, where she is currently researching the effect of Folic Acid in ameliorating hypoxia induced stem cell changes, and its correlation to non-syndromic craniofacial cleft lip and palate. She obtained her medical degree from India, at the culmination of which she was awarded the "Best Outgoing Student" for her academic excellence and research interests. She worked in the Department of Internal Medicine where she treated patients and organized medical camps in rural and underserved areas. She plans to continue her research and provide healthcare as a Physician in the US.
Abstract:
Hepatitis C Virus (HCV) is known to cause serious complications such as chronic liver cirrhosis, liver failure and hepatocellular carcinoma. Globally 3% of the population is affected by HCV infection. Tamil Nadu, a southern state of India; accounts for 0.5% of this disease. The present study aims at analyzing the prevalence of HCV infection in different age groups in the population of Tamil Nadu. The samples were received and collected from primary health care, private and government hospitals. A total of 751 HCV susceptible samples were screened for anti-HCV antibodies by ELISA. Among the 751 samples, 41 samples were positive, which was further confirmed by polymerase chain reaction. Our study revealed that pediatric age groups 1-5 and 6-12 were predominantly affected by HCV, with high incidence among males. The statistical analysis student t-test was performed and the distribution was significant across groups. In addition, other epidemiological parameters were also analyzed as a part of this study.
Center for Infection and Immunity of Lille, France
Time : 14:40-15:05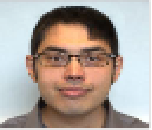 Biography:
Valentin Trofimov has his expertise in high-content and high-throughput drug screening. He aims to help eradication of the threat of tuberculosis worldwide.Tuberculosis (TB) results in the death of millions of people every year. There is a growing threat because of the emergence of multidrug resistant strains. In order to achieve that goal, new effective drugs and efficient TB therapies need to be discovered. He focuses his effort on early drug discovery with a close look at hostpathogen interactions, since in vivo activities, such as intracellular host defense mechanisms, are largely overlooked in drug research.
Abstract:
A critical feature of the Mycobacterium tuberculosis bacillus is its ability to survive within macrophages, making these host cells an ideal niche for persisting microbes. Identifying inhibitors of M. tuberculosis intracellular growth from large chemical library has long been hampered by labor-cumbersome techniques. We thus developed a phenotypic cell-based assay relying on automated confocal fluorescence microscopy and adapted it for the high throughput screen of compounds that interfere with the multiplication of M. tuberculosis within macrophages. The current project is an early drug discovery that uses alternative drug screening strategies and targets previously unexplored biological activities during tuberculosis (TB) infection.The aim of the project is to establish a novel approach within the host pathogen interaction paradigm. The approach is based on identification of the drugs and cellular pathways that trigger active bacterial release form its host into the extracellular
space or by specific killing of infected host cells. Both of these strategies can prevent the infection from spreading. Such drugs and pathways might also facilitate the boosting of the immune response and enhance the effect of other conventional antitubercular compounds. To reach our goal we established a high though put assay that uses a host-pathogen system based on human cultivated macrophages and Mycobacterium tuberculosis H37Rv to test the activity of the drugs at the single cell level. Screening will be followed by drug synergy studies with the use of known antitubercular compounds. Subsequently,studying the drug mechanisms of action will be performed with cultivated macrophages.
University of KwaZulu-Natal, South Africa
Time : 15:05-15:30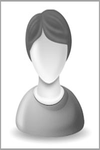 Biography:
Osadolor Ebhuoma is a Doctoral student at the University of KwaZulu-Natal, South Africa, and teaches geographic information systems (GIS) and remote sensing. His research is aimed at developing spatial and temporal malaria transmission models in KZN, South Africa using malaria surveillance data, remote sensing derived climatic/environmental variables and socioeconomic factors. The expected outcome of his research will be the identification of determinants of malaria transmission in KwaZulu-Natal and the development of malaria forecast models and by applying time series and Bayesian models. His research interests include spatial epidemiology, GIS and remote sensing.
Abstract:
Low socio-economic status (SES) has been suggested to sustain malaria transmission which in turn can propel the cycle of poverty. Thus, a deep understanding of the SES that influences malaria risk is vital because it will guide towards creating policy and strategies that will concurrently help combat malaria transmission, improve socio-economic conditions and strengthen the malaria elimination campaign in KwaZulu-Natal (KZN), South Africa (SA). The main purpose of this study is to assess the relationship between SES and malaria incidence in KZN, SA, using the Bayesian inference approach. Database of demographic/socioeconomic information and clinically confirmed malaria case data aggregated at the local municipality level for 2011 were obtained from statistics SA and the malaria control program of KZN, SA respectively. We used the 2011 dataset (SES and malaria incidence) for this study because it completely covered the study area. The association between SES and malaria incidence was evaluated by employing the Bayesian multiple regression model to obtain the posterior samples via a Markov chain Monte Carlo (MCMC) methodology. The obtained posterior samples reveal that, significant association existed between malaria disease and low SES such as illiteracy, unemployment, no toilet facilities and no electricity at 95% CI. Lack
of toilet facilities (OR =20.2; 95% CI = -36.82, 76.0) exhibited the strongest association with malaria disease, followed by lack of electricity (OR=5.252; 95% CI = -52.40, 62.32). This study suggests low SES potentially sustains malaria transmission and burden. As an implication, poverty alleviation and malaria intervention resources should be incorporated side by side into the
socioeconomic framework to attain zero malaria transmission. Therefore, the relevant policy makers and departments should stimulate additional sustainable developmental approach that combines both improved malaria intervention resources and socioeconomic conditions, which in turn, will help strengthen the malaria elimination goals in KZN, SA.
University of Hail, Saudi Arabia
Time : 15:30-15:55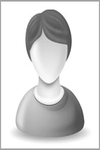 Biography:
Saleh Ahmed Alogla present is a student of Medical college in University of Hail, Saudi Arabia.
Abstract:
Background: Mutations in the uromodulin (UMOD) gene lead to a dominant hereditary renal disease, which may ultimately result in kidney failure. Therefore, the aim of this study was to assess the burden of UMOD associated renal among Saudi patients with renal failure (RF).
Methodology: PCR amplification of 10 exons (forward and reverse) enclosed in the UMOD gene is done on the patient's genomic DNA of 103 Saudi patients with RF.
Results: Of the 103 patients, UMOD gene mutation was identified in 10/103 (9.7%). UMOD gene mutation is relatively prevalent among Saudi patients with RF. Further evaluation of different mutations in thisgene is important for overall assessment of its role in RF among Saudi population.