Day 3 :
Keynote Forum
University of California, San Francisco,USA

Biography:
Michael D Geschwind is a Professor of Neurology at the UCSF Memory and Aging Center who specializes in the assessment, treatment and management of rapidly progressive dementias, including prion diseases such as Jakob-Creutzfeldt disease (JCD) and autoimmune encephalopathies, and other cognitive/movement disorder syndromes. He helped to establish a program for the assessment of rapidly progressive dementias at UCSF Medical Center, the first of its kind in the country. He helped to run the first US treatment trial for sporadic disease, at UCSF. He has also helped to establish and co-direct a clinic for patients with autoimmune
encephalopathy. He Co-directs the Huntington's Disease Society of America Center of Excellence (HDSA COE) and Ataxia Clinic at the UCSF Memory and Aging Center. His research interests include rapidly progressive dementias, cognitive dysfunction in movement disorders, such as Huntington's disease, spinocerebellar ataxia, corticobasal degeneration (CBD), progressive supranuclear palsy (PSP) and other Parkinsonian dementias.
Abstract:
Statement of the Problem: Diagnosis of human prion diseases can be difficult as they can present similar to many other conditions, and many other conditions can clinically mimic prion disease. Correct diagnosis of prion disease is important in order to prevent accidental transmission of the prions, to prevent further unnecessary diagnostic testing and to provide a realistic prognosis to the patient and family.
Methodology & Theoretical Orientation: Our center has evaluated more than 2500 cases of rapidly progressive dementia (RPD), including more than 600 cases of prion disease through our clinical research program. Most patients undergo a comprehensive evaluation including clinical history, cognitive testing, CSF analysis, research brain MRI protocol and other testing. These data are analyzed to identify measures that might improve diagnostic accuracy of prion disease compared to other non-prion RPDs.
Findings: The clinical presentation, including presenting symptoms, duration of disease, and laboratory findings are quite varied in prion disease. Brain MRI with diffusion sequences showed high diagnostic accuracy for human prion disease.Unfortunately, radiologists in the USA often miss the radiological diagnosis of prion disease, despite the MRIs showing classic features. A relatively new CSF test called RT-QuIC shows high specificity, although not as good sensitivity, for prion diseasediagnosis.
Conclusion & Significance: Our ability to diagnosis prion disease has improved over the past few years to the point at which brain biopsies are rarely needed. Improved diagnosis will be important for future treatment trials and prevention of accidental transmission of these potentially infectious diseases.
Keynote Forum
Paris University, France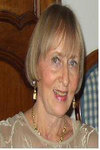 Biography:
Eugénie Bergogne Bérézin has been nominated as a Professor of Clinical Microbiology and Infectious diseases:in: in her Clinical Microbiology department she developed several fields of Research with in her group, development of pharmacology of antibiotics, studies on diseasesand acinetobacter spp. She has been implicated in studies of Respiratory Tract antibiotic distribution in lungs and efficacy, essentially with nosocomial pathogens. She published high levels articles and contributed to several Books of high level in Infectious diseases. She participates in international conferences and gives lecture to students in Microbiology.
Abstract:
Appreciation of the importance of specific pathogens refers to their incidence in clinical infections as well as their pathogenicity, virulence and resistance to most antibiotics, even the most recent powerful drugs. The importance of Acinetobacter is related in addition to its particular behaviour in terms of versatility, diversity, evolution capabilities, evolving virulence factors. Acinetobacter spp are today considered as among the most dangerous nosocomial pathogens, predominantly isolated in ICUs, medical or surgical, and responsible for severe infections. Its nosocomial pathogenicity is largely attributed to the multidrug resistance phenotype, responsible for large outbreaks within intensive care units. A combination of resistance elements with intrinsic mechanisms has resulted in development of highly resistant subpopulation which survives to antibiotic challenge. Antibiotic resistance occurs through drug specific mutations and via non drug specific factors like efflux pump expression. A well known system is based upon acquisition of foreign genetic elements history of extension of resistance became well known by acquisition of plasmids, transposons, insertion sequences (high level resistance to specific antibiotics). The pathogenicity of Acinetobacter may vary between the multiple species and among them the occurrence of fulminant Acinetobacter pneumonia has attracted interest of research of virulence factors (ML Joly Guillou, 2005). Compared to other aerobic Gram negative organisms Acinetobacter spp can survive as important opportunistic pathogens, associated to its virulent factors and resistance to most antibiotics. Today after many years of International interest and annual inter-group meetings exchanging results of important research, Acinetobacter remains a formidable nosocomial pathogen.
Keynote Forum
Howard College of Medicine, USA

Biography:
Harpal S Mangat, MD, is an Assistant Professor at Howard University College of Medicine. He submitted recommendations to his US senator that got incorporated into the 2010 Affordable Health Care Act. He has four issued US patents and additional patents have been filed. He is a Graduate of the Royal College of Surgeons, Ireland, trained at Trinity College Dublin, Oxford University and London University in Family Practice and Ophthalmology. In the US, he trained at University of South Florida and Mercy Hospital Philadelphia in Ophthalmology and Internal Medicine. He is the Transport Physician for difficult cases returning to United Arab Emirates. His clinical interests include innovative new technologies, neuroprotection, diabetes, sleep apnea, Lyme disease, especially its neurological manifestations, as well as long distance air transport of seriously ill patients.
Abstract:
Background: Lyme disease is caused by the bacterium Borrelia burgdorferi, transmitted to humans through the bite of infected blacklegged ticks. CD4/CD8 ratios in healthy adults vary across populations; in the US, a CD4/CD8 ratio ranging from 0.9 to 1.9 is considered to be normal in non-immunocompromised individuals. Lyme disease is diagnosed based on symptoms, physical findings (e.g. rash) and the possibility of exposure to infected ticks. Laboratory testing is helpful if used correctly and performed with validated methods. The US Center for Disease Control (CDC) diagnostic criteria requires the identification of five Western blot IgG bands for a positive diagnosis, although patients with less than five positive bands have been subsequently diagnosed with Lyme disease through urine PCR in Nanotrap testing.
Material & Methods: 183 patients at two medical centers were evaluated in Lyme endemic communities in Maryland, USA. Further investigation of 148 of these patients correlated their CD4/CD8 ratio with their Ig41 band, using one and two tail testing.
Results: The mean CD4/CD8 ratio in the 148 patients was 2.41 with a variance of 1.05 and a standard deviation of 1.025. Assuming a normal CD4/CD8 ratio of less than 2, with a 5% confidence interval, the p-value on both a one tailed and two tailed test was shown to be 0.00001. Two patients with an initial CD4/CD8 ratio of 2.7 and 2.8 who were IgG 41 positive were subsequently tested with the Nanotrap urine PCR and found to be positive for Lyme.
Conclusions: Increased CD4/CD8 ratio with a positive IgG 41 band appears to be a strong predictor of a subsequent diagnosis of Lyme disease despite current diagnostic guidelines. Further research should not only be directed towards investigating how Borrelia burgdorferi disrupts immune function, but also towards improving diagnostic guidelines in light of validated diagnostic methods.